Data sets currently available on SRRL AOCS web site
Additional information or data
Derived Spectral Data, are available from October 19, 2001 to September 30, 2008, every 60 seconds (when ideal conditions exist).
*** This instrument has been shutdown, due to instrumentation issues. ***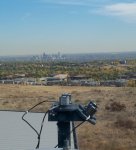 The Atmospheric Optical Calibration System (AOCS) was developed at the National Renewable Energy Laboratory (NREL) to provide low-cost measurements of atmospheric optical and spectral solar irradiance conditions pertinent to photovoltaic (PV) device performance measurements. Optical properties of interest are molecular and aerosol scattering, aerosol absorption, water vapor absorption and the ratio of diffuse to global horizontal photon flux densities for the region 0.40 to 0.70 micrometer. Measurements are used as input to the SPECTRL2 model to estimate the spectral solar irradiance (0.3 to 4 micrometers) impingent on the device. Measurements using the AOCS will be used by the PV community to measure, in real time, the effects of atmospheric optical and spectral solar irradiance on device performance.
More information is available in the
Atmospheric Optical Calibration System for Outdoor Testing of Photovoltaic Devices
paper (1.11 MB PDF File).
For more information about SRRL AOCS contact: Daryl Myers
For more information about this website or the data contact: Afshin Andreas